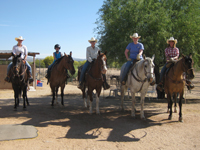 Rein of Faith Ministries was created to provide an outlet whereby individuals within the community can repeatedly go, at no cost, to a place where they can be introduced to the power of horses whereby a mutual respect grows between horse and participant creating a positive diversion in the direction and path of the individual in his/her future. The Ministry provides many different opportunities to work with horses, including the need of volunteers to fulfill the growing demand in the Ministry.
Our Ministry program consists of many qualified horses which have a range of training to accommodate the best partnership between horse and participant. The ministry's current and future activities include Horse Lessons, Horse Training, Education/Bible Studies/Worship, Breeding and Sales, Off Site Trips and Competitions. These activities are important to accomplish the mission of the ministry which is to create a positive diversion in the direction of the participants future. Evidence has proven that the interaction between human and horse is extremely beneficial in all aspects of an individual's health and well being. In addtion, we also believe that the uncompromising Word of faith message being shared empowers us to live a successful Christian life.
The program currently includes the training of volunteers who are critically needed to meet the additional demands of the Ministry. Because of the range of experience necessary, the volunteer base needs to be very knowledgeable. The training of the volunteers will include horse lessons in addition to education on safety procedures. Volunteers that have specialties in counseling and child development will also be required.